To ensure the best service, we provide:
Employee Training Programs
Family Communications
Team Work with Case Managers/Lead Agencies
Annual Program Reviews
RN Quarterly Visits with Clients
Potential employees are carefully screened, including clearance through Health Care Personnel Registry and Criminal Background Checks.
All employees of East Carolina Home Care receive training for their specified area of service.
In order to build a respectful and trusting relationship between caregiver and client, employee and client matches are carefully made giving consideration to the needs of the client and compatibility of personalities.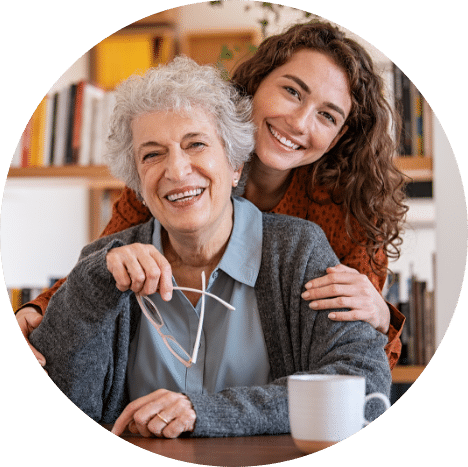 Our staff has over 100 years of experience and consists of a Director of Operations, Director of Nursing, Registered Nurses, Administrative Office Staff, Certified Nursing Assistants I and II and PCS Aides who are dedicated to providing the best services possible.
Our goal is for the client to remain at home for as long as possible with maximum comfort, dignity, self-respect and to "fill the gap" between nursing home and home life.
Why is in-home care better?
In-home senior care, also known as home care or aging in place, offers a multitude of benefits for older adults who require assistance with daily activities but prefer to remain in the comfort of their own homes.
Independence and Comfort: One of the most significant benefits of in-home senior care is that it allows older adults to maintain their independence and stay in a familiar and comfortable environment. Home care services are tailored to meet the specific needs of each individual, allowing seniors to receive personalized care while remaining in their own homes, surrounded by their belongings, memories, and loved ones.
Personalized Care: In-home senior care provides one-on-one attention and individualized care plans that are tailored to the unique needs and preferences of each senior. Caregivers can assist with a wide range of activities, including bathing, grooming, medication management, meal preparation, mobility support, and companionship. This personalized approach ensures that seniors receive the exact level of care they need, when they need it.
Companionship and Social Interaction: Loneliness and social isolation can have a negative impact on the mental and emotional health of older adults. In-home senior care can combat these issues by providing companionship and social interaction. Caregivers can engage seniors in meaningful conversations, accompany them on walks or outings, play games, and participate in activities that the senior enjoys, helping to prevent feelings of isolation and promoting social engagement.
Familiarity and Routine: Staying at home with in-home senior care allows seniors to maintain their familiar routine and lifestyle. Being in a familiar environment can reduce confusion and anxiety, particularly for seniors with cognitive conditions such as dementia or Alzheimer's disease. Caregivers can follow the established routine of the senior, which can help maintain their sense of normalcy and stability, and promote a sense of calm and well-being.
Cost-Effectiveness: In-home senior care can be a more cost-effective option compared to assisted living facilities or nursing homes. With in-home care, seniors can receive personalized care in their own home without the added costs of facility-based care, such as room and board, utility bills, or maintenance fees. This can result in significant cost savings while still ensuring that seniors receive the care they need.
Family Involvement: In-home senior care also allows family members to be more involved in the care of their loved ones. Family members can participate in the care process, coordinate with caregivers, and be actively involved in decision-making, which can help strengthen family bonds and provide peace of mind knowing that their loved ones are receiving personalized care in a familiar environment.
These are some key advantages of in-home senior care.